The Truth About Logo Design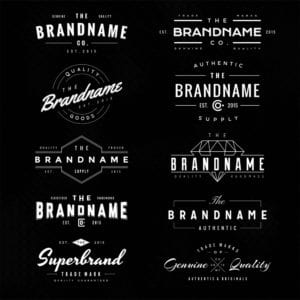 A solid logo design is essential for establishing your presence among your competitors. It serves as your business's visual identity in virtually every realm of marketing.
Your website, social media profiles, business cards, and letterhead should have your logo displayed prominently. Even if you are a small company looking for your first real project, a professional logo makes you look trustworthy and competent — instant credibility.
First and foremost, beware of the cheap logo designer. If you pay someone $5 to design your brand's visual identity, you can expect it to look like a $5 design. And if it doesn't? You probably just purchased the exact same design that dozens, perhaps even hundreds, of other small businesses are using. In some cases, you will have purchased not only an unoriginal design, but one that has been shamelessly stolen from a legitimate graphic designer.
Designing an unforgettable logo is not as simple as picking a cool font, adding your favorite colors, and finding some cute clip art.
(Actually, that's pretty much the worst way to do it!) Logo development is a process and should be managed by a professional graphic designer who also specializes in branding.
The designer should provide you with a questionnaire in order to get a good idea of your vision for your brand. Complete the questions as thoroughly as possible. It is better for the designer to have too much information than not enough.
Good communication can help the project run much more smoothly than if the designer has to guess what your needs or wants are.
At Shine Avenue, we also share a private Pinterest vision board with our clients where we can communicate visually. This is an efficient (and fun!) way to brainstorm color palettes, font combinations, artwork ideas, and other images or concepts that offer inspiration.
Once you have completed the action plan and pinned a variety of ideas on your vision board, it should take a few weeks for the designer to create the first samples for you, if she is being thorough in the creative process. After assessing your input, and learning more about your business, she will begin hand-sketching some rough ideas for your logo design before digitally drawing them. At Shine Avenue, we typically create two different logo concepts in the first draft of samples.
There are some basic guidelines to keep in mind as you work with your designer to produce the right logo design for your company:
Don't try to accomplish too much with your logo design.
The logo doesn't necessarily need to indicate the service you provide or what you're selling. It just needs to serve as an aesthetically pleasing way for potential clients to remember you easily and at a glance.
You'll likely want to consult a trusted adviser or two during the development process.
Choose one or two people who are experienced in your industry and/or are in your target market, who also understand what your logo should accomplish. The fastest way to derail the project is to ask more than just a couple of people to give you feedback on your logo. You've hired a professional whose insights and opinions should be highly valued.
Your logo should be simple with clean lines.
Uncomplicated logos are much easier to resize without losing quality. Since you'll be using your logo in a variety of formats, you'll be resizing it a lot. It needs to look as good on a business card as it does on a billboard.
Simple logos are also far more recognizable.
Quickly think of some logos you recognize (Apple, McDonald's, Target) and you'll realize they are all VERY simple.
Your logo's color palette should be appropriate to your business and industry
… and not necessarily the colors you would use to decorate your home.
Any artwork or icons used in your logo should be original artwork.
Using clip art or stock illustrations is in poor taste, and likely violates copyright law. Save them for use in your website design, social media graphics, or brochure.
To maximize the versatility of your logo, it should translate well to black
…with a transparent background, even if that's not the way you intend it to be used most of the time.
Don't be discouraged or disappointed if the first set of design samples aren't quite right.
View it as an opportunity to rule out what you don't like. Be sure to clearly communicate specific feedback to the designer.
After you've landed on your ideal logo design, make sure your designer provides you with all the formats you'll need:
Vector (EPS); high-resolution, editable (by a graphic designer or print shop) PDF;  JPG; and a PNG with transparent background. The vector artwork (EPS and/or editable PDF) is the only version scalable to any size, so it is absolutely critical that your designer provide you with one of these files. In addition to your full-color logo, she should also give you files of your logo in all black.
---
By hiring a professional designer and adhering to these guidelines, your branding and logo development process will go a long way in making your brand name utterly unforgettable. Send us a message if you'd like to talk more about brand development and logo design for your business.