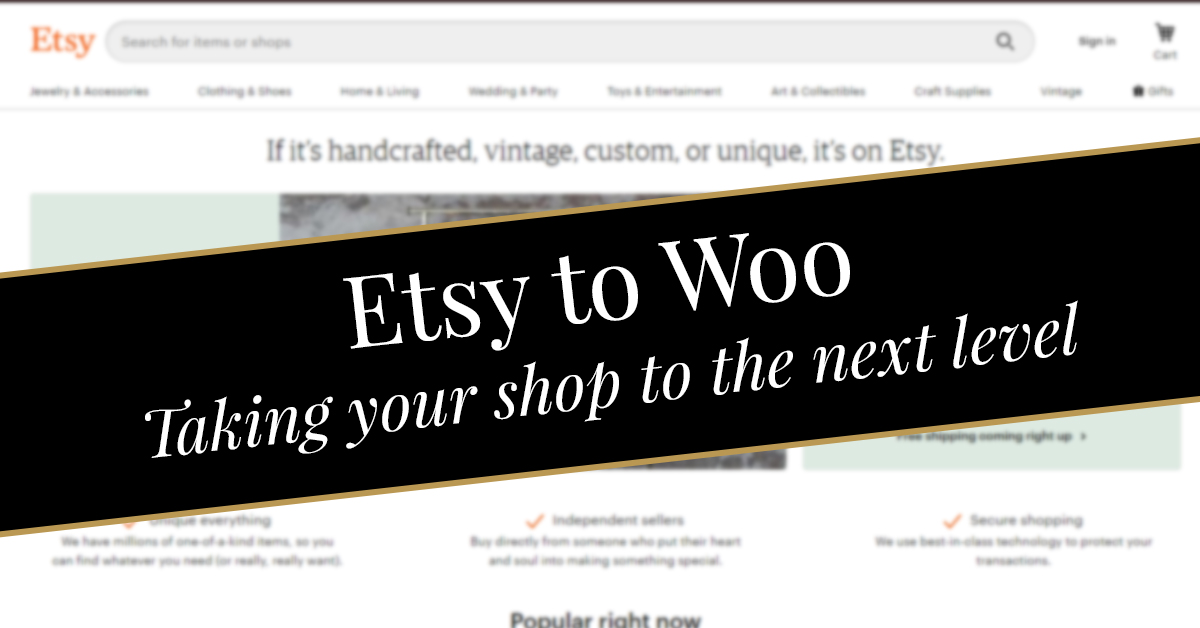 Did you know you don't own your Etsy shop?
It's true. Etsy owns your store as long as it's on their platform. They have total control. You could work for years building a customer base, accumulating reviews, creating listings, generating traffic, and it can all disappear in an instant. If your entire boutique exists on Etsy, it is vulnerable to the powers-that-be at the Etsy corporation.
So what can you do to protect your business?
Moving your shop to a self-hosted website that YOU own is a great way to grow your business and take real ownership. One way to accomplish this is my Etsy to Woo package, which utilizes WordPress and WooCommerce, as well as a user-friendly page builder that allows you to retain complete control over every aspect of your site. You can open up a new shop all at once, or we can transition the shop from Etsy to your own site over two phases.
First, you and I will discuss the process of setting up a self-hosted website. Your ongoing costs will include annual renewal of a domain name; annual renewal of any subscriptions to WooCommerce extensions or premium plugins (extensions and plugins provide additional functionality to your online shop); monthly hosting services; and regular or occasional assistance with maintaining your site.
In Phase 1, I'll build the foundation of your full website, but we will start with only a single landing page. This landing page will feature information about your shop, a contact form for customers to get in touch with you, a form to collect email addresses for future email campaigns, and an area that showcases some of your products on Etsy in real time. Your Etsy shop remains active during Phase 1 while you work to generate traffic to your new site.
When you feel ready to open your new store on your own self-hosted website, I'll add the WooCommerce plugin that turns your website into a web store, as well as the extensions you've chosen. At this time, you can add a blog, terms and conditions page, an "about" page, contact page, and any other pages you'd like to include on your site. Your landing page can continue to be used for marketing purposes, but the home page of your site will now be the entrance to your store.
What happens to your Etsy store?
You don't have to close your Etsy store once your new website is live. It's up to you if you would like to close it down to keep things simple, or if you'd like to continue using Etsy as a marketing tool. Either way, you're going to be in control of your business once your shop has a safe home on your own website.
For more details and info on pricing, contact me:
Sign up to receive non-annoying emails.
Staying on your good side is important to me, so I won't spam you.